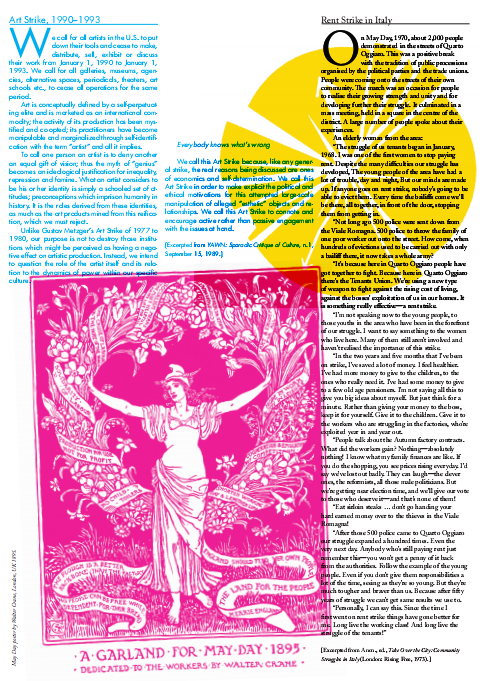 In solidarity with the calls for a General Strike on May Day 2012, we produced, designed, edited, and compiled a broadsheet with General Strike-themed posters and texts. We printed and distributed 30,000 copies of the broadsheet ahead of #M1GS actions around North America, from Oakland to Toronto and many places in between.
All posters from the broadsheet—as well as many, many more—are available in the May Day category of this site.
Texts in the broadsheet included manifestos, accounts and analyses of general strikes from the nineteenth century to the present. Get the texts from the broadsheet here.
Selected Sources
Many of these texts are excerpted from books which are available in print and worth picking up and reading in their entirety. Here are some of them:
Anon., ed., Take Over the City: Community Struggles in Italy (London: Rising Free, 1973).
Paul Avrich, ed., The Anarchists in the Russian Revolution (Ithaca, NY: Cornell University Press, 1973).
Louis Adamic, Dynamite: The Story of Class Violence in America (Oakland: AK Press, 2008).
Jeremy Brecher, Strike (Cambridge, Mass.: South End Press, 1997).
W. E. B. Du Bois, Black Reconstruction in America 1860-1880 (New York: Free Press, 1999).
Roger Gregoire and Fredy Perlman, Worker–Student Action Committees, France May '68 (Detroit: Black and Red, 2002).
George Orwell, Homage to Catalonia (New York: Harcourt Brace Jovanovich, 1980).
Sembene Ousmane, God's Bits of Wood (Oxford: Heinemann, 1986).
Angelo Quattrocchi and Tom Nairn, The Beginning of the End: France, May 1968 (London: Verso, 1998).