For more information about the efforts of Occupy Sandy and how to get involved, visit this site.
Sandy Relief Bulletin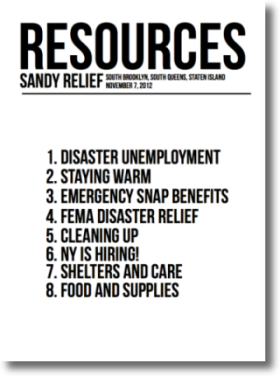 Faced with the devastation left in Superstorm Sandy's path, Occuprint edited, assembled and produced a relief bulletin with a broad range of resources to empower New York communities as they recover from the storm. Like all resources on this site, you are free to download, print and distribute the bulletin. In fact, we encourage it!
We have printed several thousand copies of the bulletin and they started being distributed in affected New York neighborhoods on November 7, 2012.
The bulletin covers:
Disaster Unemployment
Staying Warm
Emergency SNAP Benefits
FEMA Disaster Relief
Clearning Up
NY is Hiring!
Shelters and Care
Food and Supplies
There's also sudoku to help pass the time.
Download the bulletin: Sandy Relief Bulletin (en Espaņol; small version)
---
Sandy Relief Bulletin #02
Our second bulletin was published November 15. In it, you will find information about:
Disaster Unemployment Insurance
Using EBT (Food Stamps) without Electricity
Emergency SNAP Benefits
FEMA Individuals and Households Program
Map and List of Supply Hubs , Food Stations, Shelters, Medical Care & More (Rockaways map in a separate file)
Download the bulletin: Sandy Relief Bulletin #02 (small version)
---
Safe Flood Clean-Up Flyer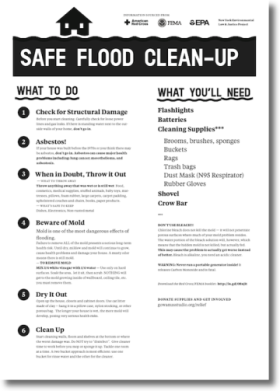 If your home was flooded during the storm, there are a number of dangers to beware of as you clean up. This one-page flyer gives safety tips about what to do and what you'll need as you go about cleaning up after flooding.
Stay safe!
Download the flyer: Safe Flood Cleanup
---
Please let us know how we can improve these resources.